Angela Rolfe gave a presentation on the contested cultural heritage of the Irish National War Memorial Gardens Islandbridge, Dublin, at the ICOMOS Ireland Member's Meeting in February 2023.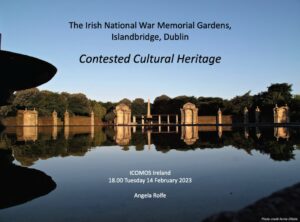 To view a recording of this talk, please click here.
The Irish National War Memorial Gardens [INWMG] Dublin, Ireland was constructed during the turbulent period of the Irish War of Independence, Partition and the creation of the Irish Free State. It was a joint initiative between the Free State Government and the Irish National War Memorial Trust. Although it was completed in 1938, its history has been marked by periods of delay, official support, antagonism – two bombs in 1950s, neglect, amnesia and vandalised during the build-up to the height of the Troubles in Northern Ireland. It was restored in the years leading up to the Good Friday Agreement, but was only officially opened and recognised in 1988. IWMG was the last memorial designed by Sir Edwin Lutyens, architect responsible for more than 190 cemeteries and memorials in Britain, the Western Front and many former British colonies. The memorial was constructed by ex-soldiers – 50% British and 50% Irish servicemen – between 1930-8.
The architect's original designs for this landscaped memorial illustrate a synthesis of Lutyens lifetime's work, from the English Arts and Craft tradition, classical architecture and the formality of symmetry of the layout of New Delhi and the careful dignity of cemeteries on the Western Front. The full-size drawings of stone details and finely honed detailed design by Lutyens provide evidence of the care and attention that was given to every aspect that was carried through into the construction. The Irish National War Memorial Gardens is an All-Ireland Memorial, it has been and remains an important barometer of the complex relationships between the Republic of Ireland and Northern Ireland/United Kingdom.
Angela Rolfe is an architect, formerly with the OPW, and a Board member of ICOMOS Ireland.