Monthly Meetings and Talks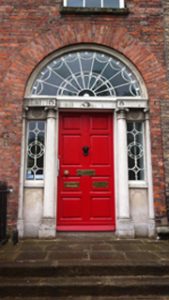 Meetings of the National Committee are held the second Tuesday each month at the Royal Society of Antiquaries of Ireland, 63 Merrion Square, Dublin 2 at 6pm.
The meeting can take the format of a general membership meeting or a presentation by an ICOMOS Member. These range from policy matters to case studies and issues for professional practice and are characterised by valuable interdisciplinary profession discussion.
The committee meetings are preceded by a Board meeting which reports briefly to the main members meeting.
Icomos Meeting Schedule 2020
Seminars and Workshops
ICOMOS Ireland and the ICOMOS International Scientific Committee on Energy, Sustainability and Climate Change (ISCES+CC) are pleased and proud to announce that the ICOMOS International Task Force on the Sustainable Development Goals (SDGs) will hold their next meeting in Dublin on the 9th and 10th of April 2018.
The event is open to people with an interest in the Sustainable Development Goals and how they will affect our lives, our government and in particular our environment, both natural and cultural. Several leading world experts in their fields are travelling to Dublin for the meetings and will give a number of short presentations to stimulate discussion and debate on the main topics.
The programme for the main series of meetings can be view here. Each meeting will be divided into how to localise the Sustainable Development Goals and how to mitigate, measure, monitor and implement these 17 goals, using agreed indicators.
The business meetings will be followed on Tuesday afternoon by a Public Seminar with a series of speakers culminating in a panel discussion with international and Irish experts. The Public Seminar Programme can be viewed here. Please RSVP to nsces.ireland@gmail.com
Maura Shaffrey Lecture
The 21st Annual Maura Shaffrey Memorial Lecture will take place in Dublin Castle on Thursday, 31st October 2019. The title of this year's lecture is Keeping Heritage Above Water. A lecture and panel discussion with keynote speaker Dr Cara Augustenborg will examine the Sustainable Development Goals and their relationship to cultural heritage, particularly when facing today's challenges to sustainably adapt for climate change and contemporary needs. Full details on the lecture can be found here. To register for the event, please follow this link.