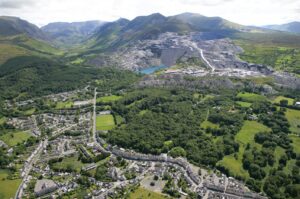 Date: Friday 8 to Sunday 10 April 2022
Venue: Galeri Theatre, Victoria Dock, Caernarfon
ICOMOS UK and ICOMOS Ireland are arranging to hold a joint meeting for members in Wales during 9-10 April 2022. Saturday will be a morning conference with papers on current issues from each group followed by a walking tour of Caernarfon Castle and Town Walls. A conference dinner is arranged for the evening. The second day will be a tour by coach of the most recently inscribed UK World Heritage Site – The Slate Landscape of North-West Wales – to view some of the quarries and associated vernacular buildings. A conference fee will cover attendance, teas/coffees/lunch and dinner on Saturday as well as coach transport around the slate landscape.
To book your ticket, please click here.
We are advised to book our own accommodation in Bangor which is a short bus ride away from the conference centre in Caernarfon. It is assumed that members would opt to take the boat from Dublin to Holyhead in the afternoon of Friday 8th connecting to Bangor by train and returning on Sunday 10th in the evening. If there are more people than places it would be possible to join by taking a car – perhaps on a shared basis.
Dip into the website to whet your appetite – http://www.llechi.cymru/
The Slate Landscape of Northwest Wales illustrates the transformation that industrial slate quarrying and mining brought about in the traditional rural environment of the mountains and valleys of the Snowdon massif. The territory, extending from mountain-top to sea-coast, presented opportunities and constraints that were used and challenged by the large-scale industrial processes, which reshaped the agricultural landscape into an industrial centre for slate production during the Industrial Revolution (1780-1914). The components encompass relict quarries and mines, archaeological sites related to slate industrial processing, historical settlements, both living and relict, historic gardens and grand country houses, ports, harbours and quays, as well as railway and road systems illustrating the functional and social linkages of the slate industrial landscape.